Zuba Central Heating & Cooling
Specifically Designed For Canadian Winters All The Way To -30º And Beyond
Zuba-Central is a heat pump which provides excellent heating performance in the Winter and effortlessly cools your home in the summer.
It installs easily into new or existing ductwork and is ranked among the most energy-efficient and cost-effective ways of transferring heat from one place to another.
Compared to other means of heating, heat pumps are very efficient, but only as long as outside temperatures stay above 0º C. From this point and below, a supplemental heating system has to be used, but with Zuba Central specifically design for Canadian Winters, you can get the benefis of a heat pump above 0º C and all the way up to -30º C and beyond.
What One Canadian University Learned About Zuba-Central
Every HVAC system claims to be energy efficient. But how many of these claims are backed by science? Ours is.
An independent study*conducted by Ryerson University in Toronto proves that Zuba-Central:
Save Energy
With a COP ranging from 1.4 to 3.19, Zuba-Central delivers energy savings of up to 60% annually over conventional heating and cooling systems.
Operates Efficiently At Low Temperatures
Our advanced system design and innovative compressor technology ensures effective and efficient operation in temperatures
as low as -30° C.
Is More Affordable Than Geothermal
Zuba-Central delivers similar energy efficiency at a fraction of the installed cost of a geothermal system.
SAVE UP TO 60% ANNUALLY OVER CONVENTIONAL HEATING AND COOLING SYSTEMS!
WARRANTY - 10 YEAR PARTS & LABOUR COVERAGE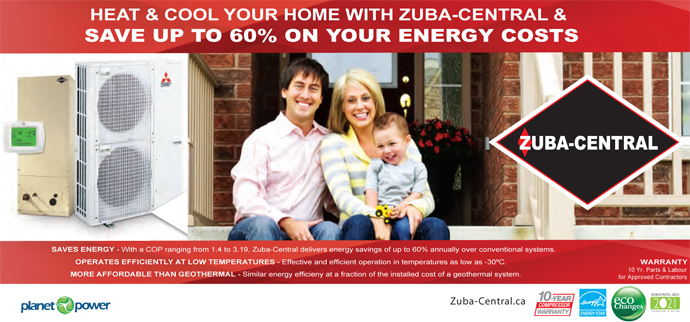 Mr. Slim™ M Series Cooling Only Or Heat Pump
Innovation & Technology All In One
Single or Multi zone split systems, Ducted or Ductless, It's a comfortable choice!
The single split system heat pumps operate at outdoor temperatures as low as -20º C and beyond depending on chosen model.
The Hyper-Heat FE and FH series go even further, providing excellent heating performance down to -25º C (-13º F).
Warranty – 10 year parts, 10 year compressor. Offered by authorized technician only.
**OUR TECHNICIANS HAVE SUCESSFULLY COMPETED THE ZUBA-CENTRAL AND MR SLIM SERIES TRAINING AND HAVE BEEN GRANTED AUTHORIZED HVAC TECHNICIAN CERTIFICATES**
Decide which products will benefit your home by contacting Planetpower to arrange an appointment today!